Sabrina D'Agosto, PhD
Università di Verona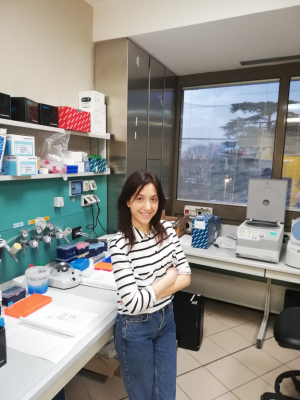 WHAT IS YOUR BACKGROUND?
I started my journey in "science" as a Bachelor student in 2008. Science means knowledge and improvement, that is why I decided to continue my education by enrolling into Pharmaceutic Biotechnology Course at University of Perugia. I was fortunate to conduct my PhD thesis project in the laboratory of Diagnostic and Public Health, under the supervisor of Dr Claudio Bassi from 2014 to 2016. During these years, I had the possibility to join the laboratory of "Stem Cell in Cancer & Aging" led by Christopher Heeschen at the Barts Cancer Institute (BCI, London, UK) from September 2015 to August 2016. At the BCI, I got interested in using different murine preclinical models of pancreatic cancer to characterize cancer stem cells. Back to Verona, I completed my PhD and started on July 2017 a post-Doctoral fellowship under the supervisor of Dr. Vincenzo Corbo and Prof. Aldo Scarpa. In 2020, I won a prestigious fellowship from AIRC (Italian Association for Cancer Research), a great honor and opportunity.
WHY DID YOU CHOOSE TO DO RESEARCH ON PANCREATIC CANCER?
It all started a little by chance or by destiny. I arrived in Verona in 2014, as a winner of a PhD scholarship and I started working with in vitro models of pancreatic cancer, one of the most lethal among malignant neoplasms. Confronting this reality every day, I realized that there is still a lot to do to find a cure and give patients a perspective on life. This is the reason why I decided to work and do research on pancreatic cancer: my passion for research and my tenacity led me to strongly believe that pancreatic cancer can be defeated.
WHAT IS YOUR RESEARCH ABOUT?
I worked on establishing and characterizing three-dimensional models, called organoids, of pancreatic cancer. This research is part of an important international initiative in which we participate alongside Cold Spring Harbor Laboratory, called the Human Cancer Model Initiative. It is a consortium that aims to make tumor organoids derived from various lesions (pancreatic, breast, colon and lung cancer) available to the scientific community.
WHAT HAVE YOU LEARNED FROM YOUR RESEARCH  ON ORGANOIDS?
First of all, this research has made it possible to generate a large number of three-dimensional models from pancreatic cancer patients, giving the opportunity to establish organoids from different stages of the disease. This has allowed us to characterize them at the molecular and histopathological level and to understand how they are valid and innovative models for the study of the disease.
WHAT IS THE FUTURE OF USING THIS MODEL?
Organoids represent a major advance in personalized cancer medicine. Most patients with ductal adenocarcinoma of the pancreas die from the disease because there are currently no effective treatments. Through the systematic analysis of three-dimensional ductal models of the pancreas, we are trying to identify new therapeutic targets that will help us take an important step forward in the treatment of the disease.
WHY IS IT IMPORTANT TO BE PART OF THE IPCC?
Being part of the Italian Pancreatic Cancer Community is an important opportunity for people like me who have been working on pancreatic cancer for many years. In fact, it offers the opportunity to interact and collaborate with other centers of excellence (national and international) which, like ours, have been working for years on  making progress in the study of pancreatic cancer.
WHEN YOU ARE NOT IN YOUR LAB WHAT DO YOU LIKE TO DO? 
Work takes up most of my day, but I manage in any way to carve out spaces to cultivate my passions. In my free time I like to cook, because it helps to relax and at the same time gives me satisfaction, especially when I cook for others. I also like to go running and do physical activity in general.